The New Guinea Volunteer Rifles (NGVR) had the distinction of being the only Australian army militia unit raised, mobilised, fought and disbanded overseas in the Mandated Territory of New Guinea between 1939 and 1943. Raised on 4 September 1939, the NGVR's headquarters were originally in Rabaul with sub-units located at Wau, Salamaua, Lae and Madang. Fit men between the ages of 18 and 50 were accepted. 
In August 1941, after the arrival of the 2/22nd Battalion (Lark Force) in Rabaul, the NGVR moved its headquarters to Bulolo on the mainland, keeping a unit in Rabaul. After Japan attacked, the Battalion was placed on full-time duty and mobilized on 21 January 1942. When Rabaul was invaded on 22 January 1942, the NGVR was under the command of the CO of the 2/22nd Battalion and fought until resistance was of no avail.
Over 80 NGVR personnel died when the Japanese prison ship Montevideo Maru was sunk in the South China Sea on 1 July 1942 by an American submarine, the worst single Australian maritime tragedy in WWII. A number of NGVR soldiers were massacred with about 150 others at Tol Plantation on Wide Bay in early February 1942.
When Lae and Salamaua were invaded on 8 March 1942, the NGVR was the only administrative representative of law and order and assumed responsibility for several thousand indentured labourers recruited from many outlying districts. These labourers would otherwise have been without support and unable to return to their homes. Establishing depots, the NGVR fed them and they became the first of the army of carriers and labourers who proved so vital in supporting the Allies in the fighting that followed, contributing to that success.
The 2/5th Independent Company AIF, with supporting attachments, flew into Wau from Port Moresby on 23 May to reinforce the NGVR. These units formed Kanga Force whose role was to start a limited offensive to harass and destroy enemy personnel and equipment in the area. Raids on Salamaua and Heath's Plantation, west of Lae, were successful but the deprivations of continuous operations in hostile terrain without adequate supply and medication took their toll with many falling sick with fever and tropical diseases. The number of fit men dwindled. Food was not getting through so the soldiers were increasingly dependent on the local food supply. Japanese air raids, their intimidation tactics over the local people and the sheer physical difficulty of getting rations forward to feed carriers had a cumulative effect and threatened to stop Kanga Force activity.
When the focus shifted to Milne Bay and the Kokoda Track battles, the NGVR continued to man its posts overlooking the Japanese. By early 1943 there were too few left to be effective. Because of their knowledge of the country and its problems, the remaining NGVR soldiers were filtered into ANGAU, the Coastwatchers, "Z" Special Unit, the Papuan Infantry Battalion, branches of the regular AIF and US forces. Of interest a "United States Distinguished Unit Citation" (later known as "Presidential Unit Citation (Army)") was awarded by the United States Army to the NGVR Battalion for the participation of NGVR members in the US-led Brewer Force engaged in a "reconnaissance in force" of the Japanese-held Los Negros Island, 29 February – 4 Mar 1944. The NGVR is the only Militia Battalion in the Australian Armed Forces ever to have received such an award. Downs, Ian "The New Guinea Volunteer Rifles NGVR, A History".
The Papua New Guinea Volunteer Rifles (PNGVR) was activated on 17 March 1951, mostly with Australians who had served in WWII. The role of the PNGVR was to maintain sub-units capable of providing information and advice on topography, local customs and personalities, guides and interpreters, and assistance in the organisation and training of indigenous and irregular forces, if required. By the end of 1951, there were detachments at Port Moresby, Lae and Rabaul. Eventually other detachments were raised in Wau, Samarai, Madang, Wewak, Goroka, Mt Hagen, Banz, Kainantu and Kavieng. A platoon was raised in April 1970 at the University of Papua New Guinea. Sec. Lt Pascal Idok of the UPNG platoon became the first Papua New Guinean to be commissioned in PNGVR in July 1971.
By January 1963 PNGVR was a 550 strong all Australian force but by 1964 the PNGVR became a multi-racial unit with the enlistment of Papua New Guineans and others. When PNGVR was disbanded on 1 December 1973, 80% of its members were Papua New Guineans. Two-week annual training camps were held, initially at Goldie River, then after integration in 1964, at Mt Ambra near Mt Hagen and, in later years, near Lae. In 1962, PNGVR was presented with NGVR's WWII battle honours: Rabaul, Wau and South West Pacific. On 17 May 1969 the Administrator, DO Hay, presented the Queen's and Regimental Colours to PNGVR at Igam Barracks, Lae. 350 soldiers from Port Moresby, Lae, Rabaul, Goroka, Banz, Mt Hagen, Madang and Wewak attended the last annual camp held in August 1973 at Finschafen. The PNGVR was disbanded on 1 December 1973 with its colours being laid up at the Australian War Memorial on Anzac Day 1974.
After PNG's Independence in 1975 most ex-NGVR and PNGVR veterans returned to Australia. In the late 1980s the New Guinea Volunteer Rifles & Papua New Guinea Volunteer Rifles Ex-member Association was formed in Brisbane. Besides participating in the Anzac Day Parade in Brisbane the Association has held annual Memorial Services at the Brisbane Cenotaph on Anzac Day and, for the Montevideo Maru, on 1 July each year. It has held annual regimental dinners and bi-annual mixed bush dinners; and ensured contact with and assistance to sick and bereaved members. Six issues of the Association newsletter, Harim Tok Tok, are published and distributed each year to all members. Phil Ainsworth, President of the NGVR/PNGVR Ex-members Association, and also a member of the PNGAA committee, can be contacted for further information on Email:  or Phone:  0418 730 348.

The NGVR and PNGVR Museum at Wacol, Brisbane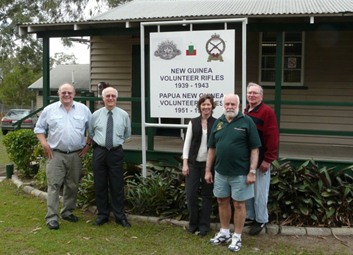 Left to right: Dennis Doyle, Phil Ainsworth, Andrea Williams, Bob Collins, John Holland
| | |
| --- | --- |
| | WO2 Bruce Inch's PNGVR Mess Dress |
When the Wacol Army Barracks was sold, the Department of Defence set aside 1.5 hectares of land and five historic buildings for the National Servicemen's Association of Australia (QLD branch) or NSAAQ. In late 2005 the Association was advised of its successful bid for one of the buildings to be used as a museum. The official opening by the Australian Minister of Veterans' Affairs, Bruce Billson, MP, and PNG Consul-General for Brisbane, Paul Nerau, LLB, was on Sunday 12 February 2006. Since August 2007 the NGVR/PNGVR Military Museum has been an ATO endorsed "deductible gift recipient". Items can also be donated or loaned to the Museum with the knowledge that they will be properly and securely looked after. The NGVR/PNGVR Military Museum focuses its collection on the Papua New Guinea campaigns of WWII and PNGVR 1959-1974. Its strength is in maintaining interesting and relevant displays of artefacts, records and memorabilia.
This Military Museum provides a wonderful tribute to Australia's shared history with PNG. It contains an outstanding collection focussing on the Papua New Guinea campaigns of WWII, the PNGVR 1959-1974, and the PIR. The collection attracts many regular visitors, including school groups, community groups, researchers and the general public.
Can you help? Work continues with collecting, cataloguing and exhibiting the many artefacts, records and memorabilia. Additional assistance to help with filing and sorting photographs and newspapers; numbering maps from the war years; cataloguing books for the library; changing and cleaning displays; and, on an occasional basis, assistance with general upkeep on the building such as washing and painting. Those with computer skills could help update the database, scan photos and assist with research: this would be greatly appreciated.
The Museum plans a new display covering the NGVR's activities in the Lae-Salamaua-Wau campaign of WWII. If anyone has photographs and/or memorabilia from this campaign could they please contact Phil Ainsworth Ph:  0418 730 348/ Email or the Curator, John Holland, on Phone: 07-3375 5484/ 0449 504 058 or Email: .
Volunteers are warmly welcomed and find it a stimulating and rewarding experience.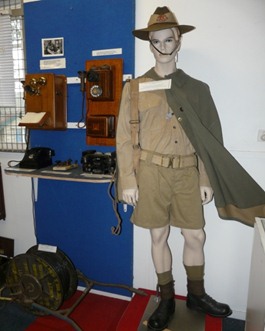 NGVR Field uniform, map case, rain cape, cloth shoulder badge, dog tags etc as originally issued to NGVR soldier Bruce Fraser.
Donated by Yvonne Farrant