Firstly, a big thank you to all those who attended this year's reunion at the Wynnum RSL. It was very heartening to see so many ex-officers and families attending. We had in excess of 60 in attendance, the majority of whom indicated they are enthusiastic about attending future events.
The weekend kicked off early on Friday morning with the arrival of ex Police Commissioner Ila Geno who came from Port Moresby to attend his first reunion. Ila joined the Constabulary in February 1968 as an Officer Cadet and had worked with many others who attended. He was most enthusiastic to become re-acquainted with them.
After lunch on Friday, guests began to arrive and a group of 13 gathered for dinner that night at the Waterloo Bay Hotel.
On Saturday, guests arrived early at the RSL, eager to catch up with their old mates. After lunch we moved upstairs to a private function room where we were addressed by Jamie Loveday. He is currently a AFP Officer based in Canberra but has recently returned from a 15 month stint in PNG where he was instrumental in organising Police Legacy and setting up their website and Facebook page. Whilst there Jamie discovered many relics from the time that most of our officers were serving and he provided a slide show of some of the photos he found.
Jamie was followed at the podium by ex-Police Commissioner, ex Head of Public Service and Chief Ombudsman Ila Geno who addressed the gathering and expressed his gratitude for the input of the officers he had worked closely with, and who had assisted so much with his career. Ila has a very good memory and recalled the names of all the officers he had worked with. He was delighted to be our guest and assured us he will return with his wife next year.
We conducted a multi-prize raffle with 28 draws during the afternoon and covered all the extra costs as well as donating $150 to Royal Papua New Guinea Constabulary (RPNGC) Legacy.
We arranged dinner at a local Thai restaurant to provide another opportunity for old mates to get together and chat. Breakfast on Sunday was at the Pelican's Nest on the Wynnum foreshore, and again more time to reminisce.
Mid-morning we were taken by bus to the Queensland Police Museum in the city, where Museum Curator Lisa Jones opened the Museum for a private tour, followed by a trip to South Bank.
Then it was back to our accommodation for a BBQ which went on well into the night. Monday morning was the time for sorrowful departures as people headed for home.
Plans for 2016 Reunion
Due to the exuberance and willingness to travel of so many in attendance we have booked the entire Wynnum Anchor Motel for three days from 5 to 7 August 2016. We hope for yet another successful event.
Many thanks to those who attended: your presence helped to make this year's event a most memorable and enjoyable experience for all of us.
We will gather as many photos as possible and make them available via email.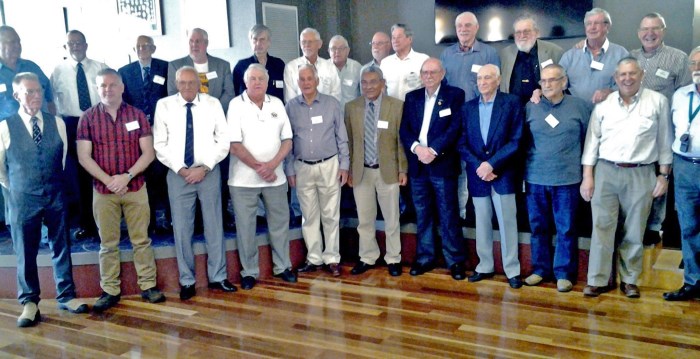 Rear, L/R: Peter Hilder, Kevan Wilde, Col Holt, Allan Hodder (head turned) Gerry Bellis (partly obscured), unidentified (obscured), Col Boreham, John Blackwell, Russ Ames, John Monk, Jack Nystrom, Graeme Breman
Front L/R: Allan Dyer, Jamie Loveday, John Dick, Bill McGrath (guest), Earl Sanders, Ila Geno, John Gorin, Ted Spackman, David Illsley, Graham Watkins, Jeff Brazier, Ian Johnston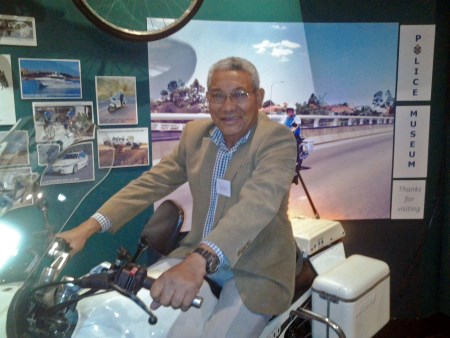 Ila Geno on static motorbike at the Queensland Police Museum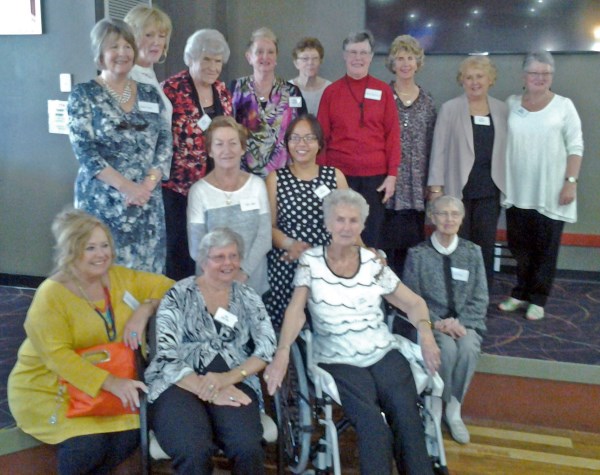 Back Row, L/R: Janice Dick, Carolyn Bird, Helga Clegg, Wendy Sanders, Avis Gorin, Sandi Spackman, Doreen MacGowan, Jenny Breman, Jennifer Johnston
Centre: Nell Ames, Sara Boreham
Front row: Jenni Hodder, Lyn Sutton, Jean Carter, Val Miles