Eric Johns writes about 'that' photograph:  I thought I knew something about that iconic photograph of Raphael Oimbari and George Whittington, until I met fellow PNGAA member John Phillips on 28 April at the reception in Canberra for Sir Michael Somare. John, I soon discovered, knew Raphael well—had stayed with him at his village, Hanau—and had also visited the photographer, George Silk, at his home in Westport, Connecticut. In 2006 John wrote what he knew about the photograph in an article for Reveille, the newspaper of the NSW RSL, and has agreed to its reprinting in Una Voce. Below John's article I have added some more information about the three men involved in the photograph.
---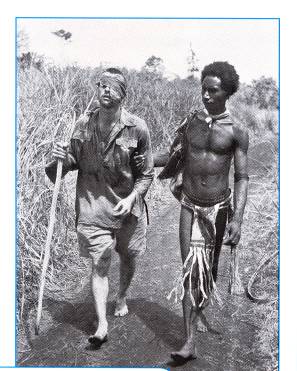 One of the most famous and emotive pictures of WWII was taken, unknown by the two subjects, on Christmas Day 1942, by New Zealand photographer George Silk. George Silk, as an official photographer with the Australian Department of Information, was covering the Pacific War against Japan in Papua, now part of Papua New Guinea. He had returned from the Middle East with the 7th Australian Division, after covering fighting in that theatre of war.
The picture shows Private George (Dick) Whittington of the 2/10 Infantry Battalian, accompanied by a Papuan native, Raphael Oimbari. Whittington, who had been injured in the head during the battle for Buna, was being led, stick in hand, by Oimbari, who came from Hanau Village, some 10.5 km SSE of the Buna "Old Strip" and 5km SE of Cape Sudest, as the crow flies.
A simple first aid dressing which covered his eyes had been applied to Whittington's wound. He was being taken back along the track from Buna through Seremi Village to the main dressing station at Dobudura for further treatment, by one of the famous Fuzzy Wuzzy Angels, officially known as ANGAU (Australian New Guinea Administrative Unit) Carriers.
Raphael Oimbari was one of 14 Hanau Village men who were ANGAU carriers, taking supplies of food and ammunition forward, returning with wounded soldiers. George Whittington was being evacuated from the area with another Digger, who was a stretcher case. They were being taken along the track passing through tall kunai grass and leading away from the Japanese Air Force "Old Strip" near Giropa Point.
This Fuzzy Wuzzy team consisted of five members, who shared the responsibility of taking two patients, one stretcher and one walking wounded, back to Dobudura. Their names were Raphael Oimbari, Fabian Javoambo, Stonewight Haita, Noah Javoko and Adam Ware. Raphael Oimbari, in his late twenties, was the oldest member of the party and was the third one to escort Pte Whittington on that day, following Haita and Javoko. Ware had cut the stick for Whittington, to assist him with his walking.
Aircraft were flying low overhead and carriers, concerned for the patients' and their own safety, at times moved off the track into the Kunai grass. These stops resulted in the changes in those caring for George Whittington.
Finally the four younger Hanau carriers, who could walk faster with the stretcher case, left Whittington in the care of Raphael Oimbari, and so the two patients were taken back independently of each other.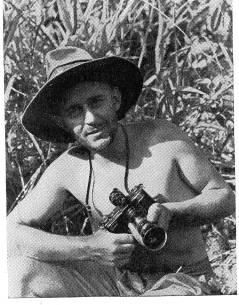 George Silk (pictured left), who was suffering from malaria, was late rising that day and was walking along the track mid afternoon, towards the battle raging at the northern end of "Old Strip", which was still in Japanese hands. He saw two figures walking towards him and, recognising a picture opportunity, stepped into the kunai grass at the side of the track and waited for the couple to pass. He set his Roliflex camera for a picture, which he took as the two went by. He was tempted to speak, but did not, so no one except George Silk knew the moment had been captured and recorded for posterity.
George Silk continued on to the battle area and took a number of remarkable and graphic photographs as the Buna battle raged around him. These included a shot of a Vickers machine gun crew, who had just had one of their number shot, prompting a retort, "Get down you bloody fool, can't you see my mate's been shot?"
While in the battle area Silk collapsed, overcome by his malaria attack. Initially, when found, it was thought he was dead, but he was later discovered to be alive. He was subsequently evacuated to hospital in Port Moresby, where he recovered and, on discharge, returned to Sydney.
At the time Silk had never seen the results of his photographic efforts, as his exposed film was sent back to Australia for processing through the military lines of communication. He was anxious to see some of his work, so to achieve this end he wined and dined a female employee of the Department of Information. The young lady kindly, but unofficially, let George view some of his photographs.
He managed to get a copy of some of the photographs, which had not been released, including the captivating snap of Whittington and the unknown ANGAU carrier. He subsequently showed the photographs to US military authorities. They were sent to Brisbane, where the Americans authorised them to be sent to the States, unbeknown to the Australian authorities.
In the States Time/Life magazine published the picture. The Australian authorities were furious and tried to discipline Silk, but finally agreed to release him. He then worked for Life magazine. He married an American nursing sister and settled in the United States, where he lived in Westport, Connecticut, until his death in October 2004. 
After the war, Raphael Oimbari continued to live in Hanau Village. He was married before the war and had children, but they died during the war. He subsequently had more children, but only one boy, Martin. In the early 70s he was identified as the Fuzzy Wuzzy Angel and was made an Officer of the Order of the British Empire, within the PNG honours system.
Raphael Oimbari met George Whittington's widow after he was identified as the Papuan in the picture, leading her wounded husband. It was agreed between them that they should name their grandchildren in honour of the grandfathers. This resulted in Martin Oimbari having a son named George "Washington" Oimbari.
Raphael Oimbari continued to live in Hanau Village until his death in July 1996; by then he was in his mid eighties. He was buried beside his modest two room bush material house. The Australian High Commissioner, David Irvine, and other dignitaries attended the funeral. Today his grave is surrounded by a concrete edging and a bronze plaque on a plinth, depicting the famous picture.
Sadly George Whittington was not as fortunate as his carer of Christmas Day 1942. After recovering from his head wound, he returned to his unit, 2/10 Infantry Battalion and was recorded present in his platoon commander's notebook during the Battle of Sanananda, which ended late January 1943. Around this time he contracted scrub typhus, for which there was no specific treatment, just good nursing care. Private George Whittington was evacuated to a military hospital in Port Moresby, and in February, like so many of his comrades, died and was buried in Bomana War Cemetery.
The last of the Hanau Fuzzy Wuzzy Angel team of five, Fabian Javoambo, died in December 1998, but before his death, like Raphael Oimbari, told of the events of that Christmas Day in 1942.
---
Sources:
Raphael Oimbari, OBE, Hanau Village, Oro Province, PNG
Fabian Javoambi, Hanau Village, Oro Province, PNG
George Silk, Westport, Connecticut, USA
Fred Allen, Veteran 2/5th Field Regiment, Wamberal, NSW
Frank Taylor, ARES Officer, Perth, WA
John Phillips, OAM, LtCol (RL), Gosford, NSW
The Three Men
George Silk
The first publication of his photograph, in Life on 8 March 1943, gained Silk an overnight international reputation and landed him a job with the magazine that lasted from 1943 until 1972. Silk became one of Life's best photographers and was twice named magazine photographer of the year by the National Press Photographers Union. In 1947 he became an American citizen.
Raphael Oimbari
Oimbari became an international identity and, as the best known "Fuzzy Wuzzy Angel", made several trips to Australia representing his country's stretcher-bearers, porters and labourers of WWII. There is a statue of Oimbari and Whittington at the Canberra Services Club, Manuka, where Oimbari was a guest in November 1992. There is another statue alongside Healey Parade (leading from Koki to Ela Beach) in Port Moresby. This statue was originally at Jack Pidik Park, five-mile, but was moved because it was being defaced with graffiti. In September 2008 board members of the Kokoda Track Foundation visited Dobudura where they met Martin Oimbari and presented him with four caps featuring his father's image, one for himself and three for his sons.    
George Whittington
George Whittington died on 12 February 1943 so he never saw the famous photograph. The caption in Life magazine read: Blind Soldier. Papuan native leads an Australian away from the Buna front. After Oimbari was identified as the man in the photograph, Whittington's widow, Constance Steiger, met and thanked him in Port Moresby in 1973. His plaque at Bomana War Cemetery reads: WHITTINGTON, Private, GEORGE CHARLES QX, 23902. AIF. 2 10 Bn. Australian Infantry. 12th February 1943. Age 23. Son of Francis Cecil and Mary Waise Whittington; husband of Constance Matilda Whittington, of Nundah, Queensland. Al. B. 2