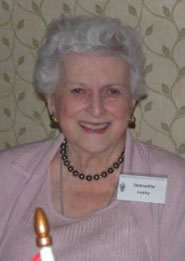 I first met the Leahys at their Zenag property in 1962 after extracting myself from the Department of Native Affairs to shoot crocodiles and trade with the locals on the Ramu and Sepik Rivers. Fresh from Melbourne University politics in the late 1950s, I became aware of Mick Leahy's political jousting in the columns of the Post-Courier and searched him out. That first meeting was the beginning of a friendship with the Leahys that has endured.
The Leahys are well recorded in PNG history but it was Jeanette the secretary, typist and bookkeeper who kept the Leahy family business, Highland Products' head above water for many years: dealing with Mick's battles with the Australian Administration of PNG as well as coping with creditors and debtors, maintaining good relations with the local landowners and all the complicated politics that came with that.
Married at nineteen, Jeanette Leahy never got to know anything about a boring life. WW2 saw her and firstborn Richard, aged six months, evacuated from New Guinea on board WR Carpenter's Lockheed Super Electra VH-ADT (Caronia 2) on 21 December 1941. Jeanette maintained a lifelong friendship with Margaret Dovey which began at the Sydney Church Of England Girl's School. Margaret Dovey went on to become Margaret Whitlam and it was indeed ironic that Jeanette's best friend's husband sent PNG off to its independence in 1975.
Post WW2 at Zenag saw the births of Tim, Chris, Phillip and Megan and with that came their education in Australia with all the associated costs. Richard dropped out of law and became an experienced PNG commercial charter pilot until his terrible crash which had Jeanette fearful of burying one of her children. Tim is a small business entrepeneur, Chris succeeded in law, Phillip became a vet and Megan is a pharmacist.
Christmases at Zenag were a meeting of friends with often visitors from abroad and Australia, and I welcomed the opportunity to take a break from the Sepik, enjoying the cooler weather at Zenag and the wonderful hospitality of Jeanette and her staff. Sitting on the verandah at Zenag, looking over the valley below and chatting over a few drinks are now cherished memories. At other times, a procession of people from all walks of life made their way to Zenag to see the Leahys.
In 1968 I took the famous artist Margaret Olley up the Sepik River and she later met the Leahys when she visited her cousin Lionel Crawford who had a coffee plantation at Wau, further up the road from Zenag. Lionel was a character who had wonderful avocado trees on his property, described by the locals as "bata bilong diwai": "the butter of trees". Oll and Jeanette had ties with the North Queensland sugar town of Tully, where Jeanette's father Stanley Best had managed the sugar mill and where Oll  spent time as a young girl before being sent to boarding school at Townsville when she was five. The two women became friends and when Jeanette was staying at her Cremorne flat in Sydney during breaks down from Zenag, she often visited Margaret at her converted hat factory, residence and studio at Duxford Street, Paddington, where Jeanette's keen sense of humour accommodated the artistic shambles that was Olley's workplace and entertaining area. I also brought Pam Bell who had been so instrumental in getting Oll off the grog, to Zenag and she and Jeanette enjoyed each other's company. Pam was a poet, a member of The Australia Council and the niece of "Ceb" Barnes, the then National Party Minister for Territories, so politics were off-limits during her stay.
Jeanette and Mick were also suitably entertained at Zenag by my good friend, Clifford Bertram Batt, who was colonial New Guinea's version of a buccaneer when he ran the Western Islands' Plantation group. Jeanette was fascinated by Cliff's colourful but true stories about his life and his friendship with Ian Smith of Rhodesia fame and it was at this time that some of us had "Recognise Rhodesia" stickers on our cars.
When Mick Leahy died in 1979, Zenag was already undergoing considerable change under the direction of Phillip and this was very encouraging for Jeanette who could start seeing some positive rewards for all her dogged years of keeping the family business on track. The expansion at Zenag involved large scale poultry production with high levels of demand leading to further growth. Some well organised overseas travel, as well as time out at her Cremorne unit in Sydney, allowed Jeanette valuable time for relaxation and the company of her family in Australia and old and new friends. Whenever I was passing through Sydney and Jeanette was in town I always knew I had a bed. It was during this time that I fluked Luddenham Lass, a good racehorse that won 6 races and placed 13 times in Sydney and I remember taking Jeanette to Randwick where we had a fun time.
Due to our links with Margaret Olley, Jeanette and I often discussed the arts and those particular artists associated with Oll, including the very famous Jeffrey Smart and Justin O'Brien, who Jeanette met at Olley's house. It took little to encourage Jeanette to buy an Olley which she did after some lighthearted bartering with the artist at the Duxford Street studio. Later, she purchased a nice study of a woman by Arthur Murch, 1902-1989. I remember a William Dobell hanging at Zenag and the artist was a guest there when he visited New Guinea in 1949 and 1950.
Jeanette maintained an active interest in the Papua New Guinea Association of Australia Inc, better known through its journal Una Voce. In December 2005, when she was taking one of her breaks from Zenag, she attended a luncheon at Sydney's Mandarin Club, held to celebrate the 30th Anniversary of PNG's Independence and she regularly attended the Association's end of year get-togethers.
Margaret Olley was two years younger than Jeanette when she died aged 88 on 26 July 2011 and Jeanette and I commiserated with each other over the death of our friend and great Australian. Jeanette was realistically aware that her health was deteriorating and she finally made the decision to leave her second home at her Cremorne unit and move into a nursing home at nearby Neutral Bay. More than once Jeanette told me that "I've had enough", and I could understand that.
Making a decision to relocate from central Victoria to Townsville in order to have one more shot at getting involved in the mining industry on the Sepik, I drove to Sydney en route to Queensland and visited Jeanette at her nursing home on Sunday 17 July 2011. Jeanette and I had a long conversation and she was very frail but intellectually alert. When I took my leave I wondered if I would ever see her again.
I spoke to Jeanette on Tuesday 8 November 2011, and she told me she felt "terrible" and then the news of her death on Friday 11 November 2011. Jeanette was still using her computer right up to the end and listening to Alan Jones surrounded by her paintings. On Sunday 13 November 2011, it was a moment of great sadness and finality when I deleted Jeanette's email address from the list of brave people who receive my political rants. To all those who are still around that had dealings with the Leahys over the many years, Jeanette Leahy's death was indeed the end of an era.