PNG has been suffering one of its worst droughts on record. By September 2015 water sources had dried up and crops and home gardens had been destroyed or failed.
A state of emergency was declared in Southern Highlands Province as severe frost and drought destroyed food gardens and water sources.
The Province has been in urgent need of food supplies, water, clean toilets and basic health services since it was hit by frost and drought in mid-2015. Schools were closed while families struggled to survive. Hospitals, homes, families and businesses have had little or no water for drinking, cooking, toilets, showers and washing.
Eighty per cent of PNG's 8 million people are rural villagers who produce most of their own food. This makes them vulnerable to extreme weather events.
As of late August 2015, frost had destroyed crops of the staple foods, sweet potato and potato, at many high-altitude locations (above 2200 metres altitude). Tens of thousands of people were reported to have left their villages and migrated to lower altitudes to find food. Villagers who use sago as a staple food or as an emergency food have experienced considerable difficulty in processing it because of the lack of fresh water.
The Ok Tedi mine closed on 22 August 2015 due to low water levels in the Fly River. Low water levels prevent copper ore from being shipped out. Employment and education in the region is affected. The drought prevents supplies, including helicopter fuel, being brought by barge to Kiunga, which affects gas exploration in that region. At this stage it is hoped the mine will resume operations in March 2016.
Incidences of diseases, including diarrhoea, dysentery, malaria, typhoid, skin diseases and respiratory ailments were expected to increase.
Foreign Affairs Minister Julie Bishop announced a $9 million aid package for the Pacific while touring areas affected by severe drought in PNG in November 2015.
'Of the pledged funding, $5 million will be given to specific programs in PNG, mainly for technical and logistical support.
'Around $500,000 will go towards seeds for drought-resistant crops, money for church groups, drought mapping and help coordinating relief logistics.
'The other $4 million will be given to charities in the wider Pacific region helping communities affected by the drought.'
In early 2016 the impact of the drought continues despite rain in some locations.
There was some rain across the Highlands from December but whilst the water sources such as rivers and creeks are filling, the water quality is poor due to high levels of sediment washed from exposed areas.
Further articles on the drought in PNG are:
http://theconversation.com/as-papua-new-guinea-faces-worsening-drought-a-past-disaster-could-save-lives-46390
http://www.lowyinterpreter.org/post/2015/09/03/The-impact-of-the-worst-frost-and-drought-in-Papua-New-Guinea-since-1997.aspx
http://devpolicy.org/png-drought-response-reporting-from-goroka-20160202/
http://www.abc.net.au/news/2015-08-29/drought-frost-in-png-causing-food-crisis-photos/6732740
Who is most affected by the drought?
Do you want to know who is most affected by PNG's drought, and where they are? Check out the research by Mike Bourke, Bryant Allan and Michael Lowe.
During 2015 much of rural PNG was harshly impacted by a severe drought and, at a number of very high altitude locations, by repeated frosts. The impact is similar, but not identical, to that of the major 1997drought and frosts. The El Niño associated drought had a major impact on water supply in very many parts of PNG, with negative impacts on school operations, women's labour and villagers' health. Wildfires have caused considerable damage to buildings, forest and grasslands in some locations. In many locations, subsistence food supply is affected and rural villagers are short of food.
There are strong indications of an increase in the crude death rate in several remote locations, as well as claims for a higher than normal death rate in other locations.
Read more at: http://devpolicy.org/the-ongoingimpact-of-the-elnino-droughtand-frosts-in-papuanewguinea-20160115/ and http://devpolicy.org/publications/policy_briefs/PB11PNGdrought.pdf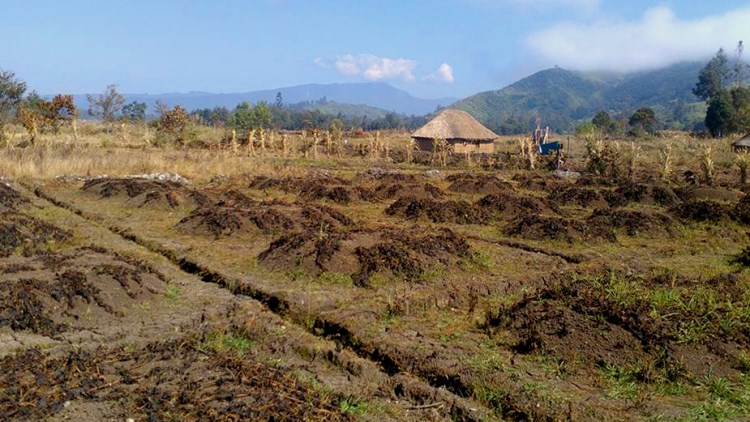 Frost burnt food in PNG