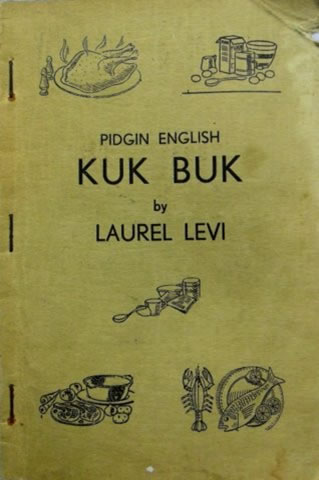 I never thought that I would be writing about a simple little cook book. But here I am and this is a little gem. On clearing out my library I came across a long forgotten pidgin guide for preparation of everyday food and delicacies suitable for the cook bois (sometimes meris) who, in a long ago distant era, we used to employ.
I think that we probably paid about 2/6 for A Kuk Buk in Pidgin by Laurel Levi, published by the Methodist Mission Press, Mango Avenue, Rabaul TNG in 1964.
Laurel Roma and Ronald Herman Levi were planters at Myuna Plantation, Kokopo. Ron, a RAAF pilot officer between 1940 and 1949 unfortunately did not live much longer. He died somewhat prematurely at the age of 57 on 29 October 1965 and was buried in the European Cemetery. Laurel was connected with the Girl Guides and the foreword to the book is written by the President of the Girl Guides Association, Vera Foldi, wife of John Rollo Foldi, the then District Commissioner.
My copy, much thumbed and stained, was an aid for our cook boi, a rotund elderly Namatanai villager named Butt who obviously liked his food. Butt's big regret in life was that the missionaries in New Ireland had outlawed cannibalism. After decimal currency came in in 1966, he came to us and asked if the old yellow coins buried in his village, Sohun, would still be of some value or whether they would throw them away. We then knew absolutely nothing about the earlier German Neu-guinea Compagnie gold 10 and 20 marks and told him to leave them buried. Oh, that we were bereft of the value of these gold coins, now exceedingly rare with a 10 mark coin selling at an auction for over $20,000. When I get the time, I am going back to Sohun with a metal detector.
This little book of about 5 x 7 inches, has a pale green cover and consists of 112 pages. Included are full page adverts from businesses we used to know: Rabaul Sports and Music Store; Elvee Trading Coy; Shell; Croyden and Viggers; Rabaul Photographic; Burns Philp and Co. Ltd; Rabaul Pharmacies (John Mills); New Guinea Coy Ltd; ED Clarke Chemist;  Hennessy's Bakery; Rabaul Trading Coy Ltd; Andersons; Town Transport; Pings and Coy Ltd; Paradise Bakery; James Chung & Coy Ltd; New Britain Carriers Ltd; Kwong Chongs; AA Hopper and Coy; and Gabriel Achun and Coy Ltd.
Contents are listed under Kai Long Monitaim (breakfast); Kai Kai Bilong Belo (luncheon dishes); Sos (sauces); Pis (fish); Abus Nau Kokoruk (meat and poultry); Kumu na Seiyor (vegetables); Swit Kai (sweets); Keks na Biskit (cakes and biscuits); Diring, Kol na Hat (drinks, cold and hot). There is also a Skeil nau Mesa (weights and measures); Taim Long Kukim Abus (timetable for cooking meats); and other directions. There is also a very comprehensive dictionary of English into pidgin.
Now turning to the recipes. Kiau na Susu (Scrambled eggs); 3 kiau, 1 kap susu, pepa na sol (3 eggs, 1 cup milk, pepper and salt). Brukim kiau long sosipen, potim susu, na tanim wantain, putim, liklik pepa na sol, tanim wantain moa, kuk im long sosipen, tanim oltaim long pok, long taim i strong, tekewei wara long im, wok im tupela tos na putim kiau antap. That should be quite clear to readers and I will not translate.
Then follows menus for bacon and eggs (Paraim Kiau Na Pig); how to take away the shell from boiled eggs (Pesin Long Tekewai Skin Long Kiau), and many other recipes for other foods and preparation.
In the 15-page English to Pidgin dictionary I found some words new to me: bacon (pig igat sol); berry (pikinini bilong diwai); colander (besin I gat plenty hul longen); double saucepan (wanpela I sindaun insaet long arapela); egg beater (wiliwil long tanim susu); stemmed glass (galas igat wanpela leg); octopus (wurita); and refreshed my memory of many other pidgin words long forgotten.
I have no idea as to how many copies of this very commendable book were printed but this wonderful little book, no doubt, took pride of place in many kitchens, being the first ever such of which I am aware.