Living spirits with fixed abodes by Barry Craig
Return to Paradise: Retracing lost footsteps by Jillian von Leixner
Comprehending West Papua
---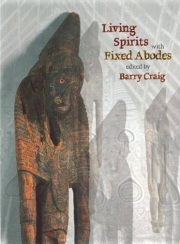 Living Spirits with Fixed Abodes: The Masterpieces Exhibition, Papua New Guinea National Museum and Art Gallery by Barry Craig, Mark Busse and Soroi Eoe
ISBN 9781863332583 286pp Published by Crawford House Publishing Australia. Price: $89.95. Available from: www.crawfordhouse.com.au. The book is lavishly illustrated in colour with a few black and white photographs, maps and drawings. Most pages have good quality colour plates. In large format 21x29 cm.
The National Museum and Art Gallery of Papua New Guinea has a multitude of roles. It keeps and conserves cultural, historical and natural collections, carries out research, educates the public through exhibitions and publications and enforces cultural heritage legislation.
While Living Spirits with Fixed Abodes discusses these multitudinous roles, the bulk of the book is taken up with a catalogue of the 209 cultural artefacts in The Masterpieces Exhibition on display in the public gallery. In this it is highly successful; the minutia surrounding each item are fascinating.
Barry Craig is the editor and even though he graciously acknowledges help from many sources, this is really his book. He has done the hard yards and his contributions take up well over eighty percent of the text.
The book is very handsome with a beautiful layout and is a credit to the publisher, Crawford House.
Last year we were reading about the appalling neglect of the museum by a seemingly uncaring government. A building so poorly maintained that on more days than not its doors were closed, the power off and the telephones silent.
We shrugged. It was simply just another microcosm of the greed and neglect that is mirrored in similar institutions all over the country. What we didn't read about at the time was what was behind those doors, the raison d'etre for the building being there in the first place. This book answers that question in style.
Phil Fitzpatrick

Return to Paradise: Retracing lost footsteps by Jillian von Leixner (née Rundnagel)
78 pp Large square – many colour photos. Cost: $104.95 hardcover with dust jacket, self-published. The whole book can be previewed here.
In December 2009 I returned to the island of East New Britain with my husband Gerard and son Alexander to revisit old memories and retrace family history. This book is an account of the journey.

Comprehending West Papua is a collection of edited papers from the Comprehending West Papua conference held by the Centre for Peace and Conflict Studies at the University of Sydney in February 2011. It is the most comprehensive volume of its kind, offering analyses of the West Papua conflict from leading global academics and activists.  The book is downloadable from here.