The Backroom Boys by Graeme Sligo
Beautiful Tufi: Between the past and the future by Jan Hasselberg
Fools' Gold by David Pye

---
The Backroom Boys by Graeme Sligo
ISBN 9781921941122 Big Sky Publishing, PO Box 303, NEWPORT, NSW 2106. (Ph.) 1300-364-611;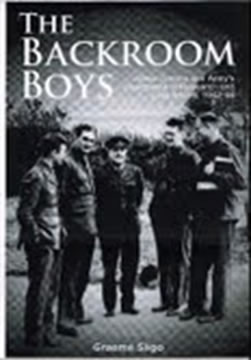 This is the remarkable, but little known, story of how a varied group of talented intellectuals, drafted into the Australian Army in the dark days of 1942, provided high-level policy advice to Australia's most senior soldier, General Blaney, and through him to the Government for the remainder of the war and beyond.
This band of academics, lawyers and New Guinea patrol officers formed a unique military unit, the Directorate of Research and Civil Affairs, under the command of an eccentric and masterful string-puller, Alf Conlon.
Among his team were a future Governor-General, John Kerr, a future head of Foreign Affairs, James Plimsoll, the future Chief Justice, Harry Gibbs, the Ern Malley hoaxers, James McAuley and Harold Stewart, as well as Jim Taylor and John Black, who led the expedition that made 'first contact' in the New Guinea Highlands in the 1930s. The Directorate has been depicted as a haven for underemployed poets or meddlesome soldier-politicians.
Based on wide-ranging research, this book reveals a fuller and more fascinating picture. The fierce conflicts in the wartime bureaucracy between public servants and soldiers, in which the Directorate provided critical support to Blaney, went to the heart of military command, accountability and the profession of arms.
The Directorate was a pioneer in developing approaches to military government in areas liberated by the combat troops, as demonstrated by the Australian Army in New Guinea and Borneo in 1945-46. It is an issue of enduring importance. The Directorate established the Australian School of Pacific Administration, and had an important role in founding the Australian National University. Its influence extended into post war Australia. The Backroom Boys emphasises the personality of Colonel Alf Conlon, as well as the talented men and women he recruited. Above all, this book shows how, unexpectedly, the Australian Army fostered a group of men and women who made a lasting contribution to the development of Australia in the decades after the war.
Graeme Sligo is a colonel in the Australian Army who has served overseas in East Timor and Iraq. He is a graduate of the Royal Military College, Duntroon, the Canadian Forces Command and Staff College, Toronto, the National Defence University of Pakistan, the University of New South Wales and the University of Melbourne.
---
Beautiful Tufi: Between the Past and the Future by Jan Hasselberg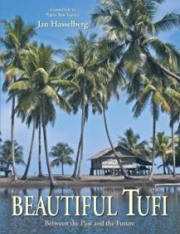 This is a story of the villagers of Tufi, in Oro Province of Papua New Guinea: their dramatic yesterdays, their joys and worries of today, and their expectations of tomorrow.
Luxury Travel Magazine describes this publication as "a colourful coffee table book" about the people, culture and life at Tufi, Papua New Guinea.
The book paints a picture of the people's daily tasks, special occasions, their surroundings and history, and how they combine their old traditions and ways with adaptations and preparations for the future.
After several visits to Papua New Guinea, Jan Hasselberg became inspired by the beauty and culture that surrounded him that he returned to write Beautiful Tufi.
"During my first stays at Tufi, I learned that the area has a very dramatic and interesting history, and a great wealth of natural treasures," Hasselberg says. "To experience a place where the natural environment is still a fundamental part of everyone's lives made a deep impression on me, and this is some of what I have tried to express in my book. Here I was also met with great warmth and hospitality, which made it natural for me to go back and find out what more the area has to offer."
In Beautiful Tufi, Hasselberg follows a number of individuals, some in dramatic situations and some in their every-day chores. He follows them in the rainforest, in their gardens; fishing on the reefs and taking a dinghy to town. The text is supported by a large number of the author's own photos and some from historic archives."
That is the sales pitch. However when I first picked up the book and started to skim through, I suddenly stopped. "WOW" I thought.
This book has absolutely stunning photographs throughout its 241 pages. There on average two photographs per page, and many at full A4 size. Many of the photographs were taken by the author and have appeared in some other publications including Panoramio/Google Earth sites, and Flickr. The photographs are superb, and instantly draw the reader to read the supporting text.
This is one of the first books of its genre that I have been compelled to read from cover to cover.
It is not a "coffee table book", as described. It could be if you were trying to impress your visitors. You would not have to try very hard to do that.
The book's text and photos take the reader from the earliest days of Tufi regional and village habitation and folk law, through major periods in past and recent history, to today and into the foreseeable future. You are led by the writer as characters in the book, describe their realistic observations and feelings first hand.
The book deserves a place in every school library, both in Papua New Guinea and elsewhere. It certainly deserves a place in any home where previous memories of coastal PNG need to be invigorated.

Keith Wall
---
Fools' Gold by David Pye
ISBN 9-780992297701   Paperback 270 pages. RRP around $25.00 Sales: contact
This new novel brings to life the excitement of men chasing the dream of finding the always elusive gold in the mountains behind Rabaul in the hard but picturesque Gazelle Peninsula of East New Britain. The WW2-based story draws from the author's extensive own knowledge and backed up by actual wartime records. Many of the scenes and characters are real, and the fictional sides of this story have realism that shows direct and tangible results of thorough research.
David Pye writes with a 'down to earth' style and builds his story line with an easy-to-read fashion. His use of language of the day adds to the realism of the story telling.  His use of Pidgin English or Tok Pisin is based on the language as it was spoken by the Tolai people of New Britain during the 1920s and 30s. Pidgin was the writer's first language, and taught to him by his indigenous minders and friends. When I first read a draft of this book, the pidgin in use did seem different in comparison to what I was taught in much later years. David has included a glossary of pidgin as used in this book, that will certainly provide assistance to non-Pidgin speakers and to 'later learners' as well.
I thoroughly enjoyed this tale of adventure, bravado, hardships and stupidity, of young men searching for riches during the WW2 time period.
Fools' Gold is David Pye's first novel. He has a sequel novel planned.
Keith Wall